10549 Scripps Poway Parkway, Suite B-3
San Diego, CA 92131


(858) 271-8457
Open Today Until 5:00 pm
| | |
| --- | --- |
| Monday | 10:00 am - 5:00 pm |
| Tuesday | 10:00 am - 5:00 pm |
| Wednesday | 10:00 am - 5:00 pm |
| Thursday | 10:00 am - 5:00 pm |
| Friday | 10:00 am - 5:00 pm |
| Saturday | 10:00 am - 5:00 pm |
| Sunday | 11:00 am - 4:00 pm |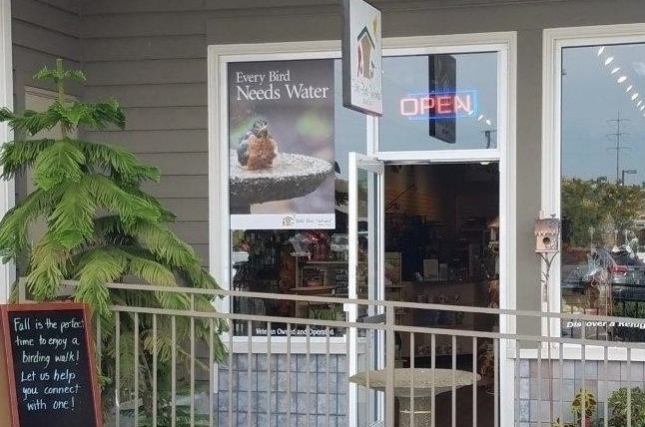 Jerry & Arlene Martin Franchise Store Owners
View Our Store Site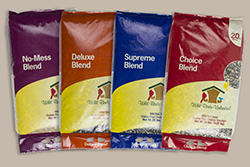 Some Food for Thought
Let's face it; there are a lot of ways your bird feeding dollars can be wasted.
Squirrels are sure to put a dent in your budget as they devour everything in sight, not to mention the mourning doves and pigeons that can dominate your feeders to the exclusion of the birds you really want to attract.
Feeding a poor quality blend of bird seed from the grocery, hardware or big box store store can also be a waste of money as most of the undesirable filler seeds just end up rotting on the ground under the bird feeder. If the ingredient list shows milo, sorghum, wheat, canary seed, corn, or mysterious unspecified "grain products," it its likely NOT a good blend. Most of those ingredients are really just "fillers" and are not foods that attract the kinds of birds you will enjoy.
Instead, look for LOTS of sunflower (which may come in the familiar black shell or in a hulled form) and peanuts (either halved, chopped or peanut hearts). White millet or safflower are typical secondary ingredients.
We deal with these scenarios all the time and we have the right bird foods, feeders and expert advice that will help you get the biggest bang for your bird feeding buck!
Our quality bird foods target the specific birds you want to attract and discourage the birds you don't. We have exclusionary feeders and accessories that can prevent those domineering squirrels, rodents, doves, pigeons and other nuisance critters from eating you out of house and home.
You will not find a better value in bird seed than our quality WBU Seed Blends. With our regionally selected formulas, fresh quality ingredients and no filler seeds, you can rest assured that you will not be wasting any of your money on worthless, uneaten seed.
We will also share lots of expert advice about setting up and operating your bird feeding area in the most efficient and economical ways possible.
Give it some thought… if you are ready to take action, we are here to help you get more birds for your bird feeding buck!
How is our seed better?
Ours: Our No-Mess blend is 100% edible, no waste of money or resources.
Theirs: Filled with inedible fillers: milo, wheat, mystery "grain products"—that waste money & attract rodents.
Ours: Locally correct, based on foods that our San Diego County birds prefer;
Theirs: Generic blends not specific to area, contain milo, corn and barley which Western birds don't like and won't eat.
Ours: Single seed choices, blends plus No Mess blends formulated to attract OUR most desirable birds;
Theirs: Limited choices, often a "wild bird blend" which supposedly attracts all birds...but only attracts a few species;
Ours: Convenient, easy-to-carry 5, 10 or 20 pound bags;
Theirs: Often small, pricey bags of odd sizes, or unwieldy, giant bags that are hard to store and will get stale easily;
Ours: Seed delivered fresh every week;
Theirs: Casual, infrequent delivery, no effort to be fresh;
Ours: Friendly staff who are passionate about birds and can answer your questions about bird feeding and deterring pests like squirrels and more;
Theirs: Unengaged staff with no experience with birds.
---